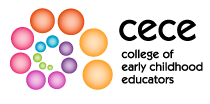 The College of Early Childhood Educators (College) regulates and governs Ontario's Registered Early Childhood Educators (RECEs) in the public interest.
The College is the only professional self-regulatory body for early childhood education in Canada.
The College regulates the profession of early childhood education by establishing and enforcing:  ​
Registration requirements.
Ethical and professional standards for RECEs.
Requirements for continuous professional learning; and
Complaints and discipline process for professional misconduct, incompetence, and incapacity.