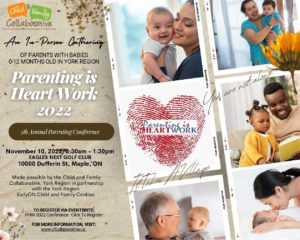 The Child and Family Collaborative (cfcollaborative.ca) in York Region will be offering its yearly Parenting Is Heart Work Conference for families with children 0-12 months old. This Conference is now on its 5th year.
You may choose from one of the following events:
Virtual Conference on November 8, 2022 12:30 – 3:15 pm
In Person Conference on November 10, 2022 8:30 – 1:30 pm
The conference aims to support and empower parents (and caregivers) with the latest research in various areas of child development. It is designed to celebrate parents' expertise, strengthen their connection and engagement with their child and support their child's learning and healthy development.
This Conference is for parents and babies to participate together and is free to attend.